DID YOU KNOW?
Cecil Township Police Department has provided a secured Prescription Drug collection box for persons who need to safely dispose of unused or unwanted prescription medications. Pills and Patches will be accepted ONLY!
NO needles or liquids!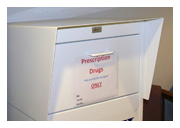 The collection box is located in the police department lobby. Medications can be dropped off between the business hours of 7:00 am and 3:00 pm Monday thru Friday, except holidays.
If you would have any questions about this program, please contact us.

FEATURED
PROGRAMS
Policework is more than patroling neighborhoods or catching speeders.
Listed below are a few of the programs we are involved in. Check often for more information.
School Visits
D.A.R.E.
Crime Prevention
Child Passenger Safety Program
Neighborhood Watch
Bicycle Safety
SPECIAL
SERVICES
Fingerprinting
Police Incident Reports

Police Criminal Reports

Traffic Accident Reports

Police Record Checks
FINGERPRINTING
If you are a resident of Cecil Township and need to get fingerprinted, you must contact our office to schedule an appointment. There is no fee for people who reside or work in Cecil Township. Current photo identification is required when getting your fingerprints.